From living a life of material riches to homeless. Is it possible? This is the time of the year to think about those who are not so fortunate. After a visit to one of the features of Lowlands festival this year I got the inspiration for a new clip for Just Follow Me about the homeless. How do you become homeless? Did you start out with a poor start or can you have everything and lose it? It turns out it can happen to anyone of us, but one of the more common ways is through either drug or alcohol problems.
My go-to supermarket is very close to the homeless drop-in center of my city, so regularly I see them around the supermarket asking for a penny. In the clip I tried to realistically give an insight into the life of the homeless based on these experiences. One thing I noticed in some homeless is the slow pace of life. Never in a hurry to get somewhere. No longer aware of the rustle and bustle of the fast moving world around them. Looking inward. Not outward. On the lookout only for that opportunity to get somewhere where its warm or to get something to drink.
So the story of the clip centers around someone who has in luxury and ends homeless. The main inspiration for the clip was someone walking in the streets of Leiden with a large gettoblaster around his neck with music playing and LEDS blinking. Quite a character. For the recording of this clip I was fortunate to meet Annemiek who was able to find the perfect spot to make the clip and do the camera work. It was also conveniently very cold, windy and wet that day to add to the dark and gloomy side of that clip.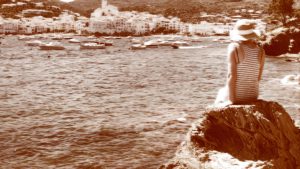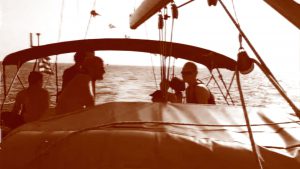 On the other side. Years ago I was fortunate to go on a short sailing trip from Athens in Greece to Aegina. The whole setting in the harbors and the rented yachts with crew really gave you the feeling of living the live of the rich. I went back to this trip to show the wealthy side of life. The clip has some real footage of that trip and in flashbacks you go to this happy world where Kelly sings to you "Just Follow Me".
Just Follow Me by the way is still the most listened to song of B2FAB. Year after year. The previous clip was a simple animation, so a more cinematic clip seemed to be appropriate. As a tribute to all the homeless I decided that homeless persons I meet in the coming days to Christmas and New Year will get some money. I encourage you to do the same. These are not good times to be homeless when its dark and cold.